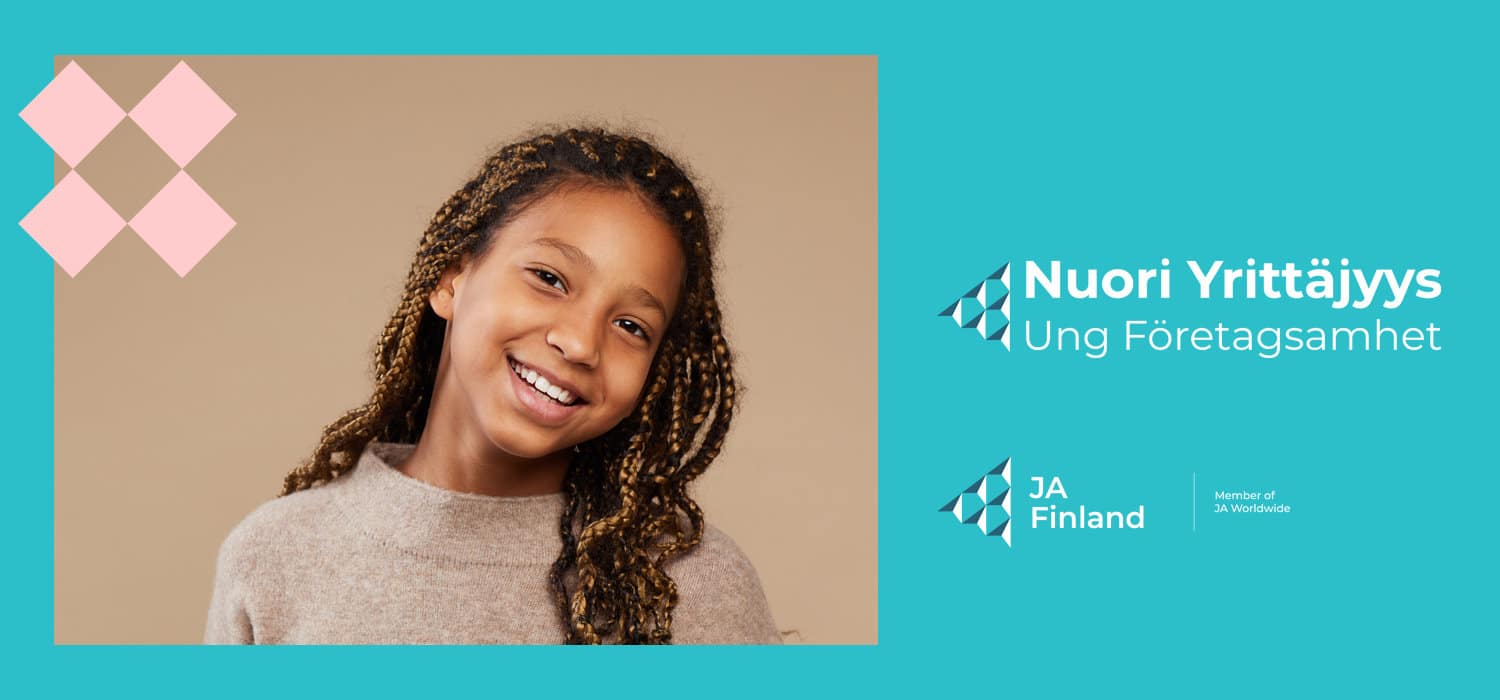 Written by: Kaisa Huikuri, Head of Communication and Marketing
There was a strong demand for a rebrand in both Finland and our international network. We are part of the Junior Achievement network (JA for short), which is one of the world's largest non-profit organisations working for young people. The JA logo had last been updated in 1986, so our visual appearance had already reached a retro status – and gone beyond it.
JA Worldwide, our umbrella organisation operating in the United States, launched a rebrand by conducting interviews in different member countries. In the rebrand, we considered the appeal of the brand to today's youth and how to plan an entity that works in more than a hundred countries of the JA network. It turned out that colours and abbreviations mean different things in different countries, but above all, it is possible to make the logo a common visual symbol for the network.
The new logo reflects network and movement
The long history of the organisation, beginning in 1911, has been preserved in the new blue logo. JA's logos often feature triangularity and subjects related to flying or dynamism. The new logo embodies both change and continuity.
Relevant contemporary themes in the logo are networking and the power of cooperation. The logo embodies the importance of cooperation for young people heading into working life and also the aspect that some young people establish companies and offer work to other adolescents from their community in the future.
Networking and joint development are also at the core of our operations – cooperation between our personnel and international network, with the board, alumni and partners, as well as joint development in schools with teachers and municipal decision-makers.
Here in Finland, there were many needs related to the rebrand. Our visual appearance had accumulated many levels over the years. Our different learning programmes and events had sprouted their own looks. The whole with its different product names had become fragmented, which has undermined the brand's recognisability and the consistency of our communication.
We received thoughts on brand development from stakeholders
We began the brand project in Finland by interviewing our stakeholders, including education sector operators and young alumni. We asked what our operations appear like on the outside and what to hold on to. We considered the essence of our operations and the distinctive features of Junior Achievement Finland.
In the interviews, our inspiring and practical way of working as well as our expertise in the themes of entrepreneurship education and teaching came to the fore. Although the time windows of our learning programmes are limited, the respondents still felt that Junior Achievement Finland prepares young people for life. Instead of courses, it is really about lifelong learning and benefit.
"The new identity must preserve the current wide-ranging positivity at the heart of the operations – cheerfulness and good-naturedness, a relaxed attitude, encouragement, sympathy and sparring, as well as a brisk approach."
– Feedback from customer interview
The respondents also thought that we were easy to approach and renew the culture of learning. Development areas included the occasional torrent of information, the clarification of some learning programmes and the refinement of communication related to young people.
We also received approximately 300 comments from personnel related to our core messages and values as well as visual style.
In addition, other important partners in our rebranding were Parcero Oy, which facilitated and implemented the visual rebrand and updated communications, and Sivututka Oy, which implemented the look and structure of the homepage.
What is our brand about?
We gathered all the feedback together and renewed our brand guidelines. Our goals are to build Junior Achievement Finland into an even more recognisable and distinctive actor, and to clarify and unify our communication.
Junior Achievement Finland as an operator
In the interviews, we gathered information about the images associated with us. Many positive aspects were highlighted, which we want to emphasise in all customer encounters in the future. We promise not to take things too seriously after the rebranding either. : )
At the core of our clarified brand and the goals of our operations is a young person equipped with future skills.
We encourage children and young people to learn entrepreneurship, working life and financial skills, to try out their talents and to find their strengths – learning by doing.
Our goal is young people who are capable and believe in themselves, who actively participate in building society, employ themselves and others, and take care of their finances in a responsible manner.
The benefits of our service:
With strong pedagogical expertise, we offer inspiring and practical learning programmes for all school levels. The free programmes are easy to implement into teaching.
We promote cooperation between educational institutions, companies and the surrounding society. Our work also supports the dynamic development of regions.