LEARN MORE ABOUT OUR PARTNERS
Our partner community features a broad variety of organisations, including companies, foundations, educational institutions and various public actors. Our partners represent different sectors and industries, and they range from small local businesses to major publicly traded companies.
Read more about what our partnerships include below and get inspired to participate!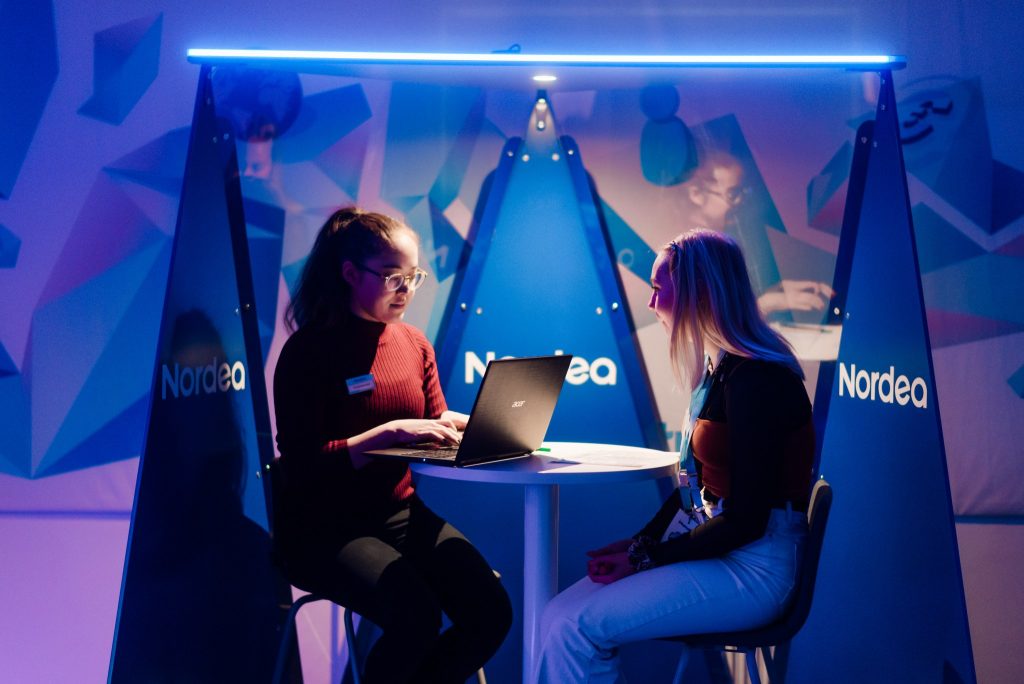 Financial skills, entrepreneurship spirit and positive encounters with Nordea
Nordea helps sixth- and ninth-grade students learn about the banking sector and improve their financial, working life and entrepreneurship skills in seven different regions in Yrityskylä Primary and Secondary Schools. The miniature banks of Yrityskylä Primary School are staffed daily by groups of excited 12-year-olds, who fill in the roles of bank managers, digital advisors and analysts and manage the financial operations of the miniature society.
Nordea employees have the opportunity to volunteer in Yrityskylä learning environments around the country. Nordea's volunteers guide, encourage and support children and young people participating in the Yrityskylä day. Volunteering has offered hundreds of meaningful encounters and learning opportunities to children and Nordea employees alike.
We also teamed up with Nordea to create the story-driven Moneymaster games and the Moneymaster competition. The games introduce children to topics including responsible consumption, saving and investing. In addition to this, Nordea is closely involved in creating JA Finland's upper secondary school learning materials.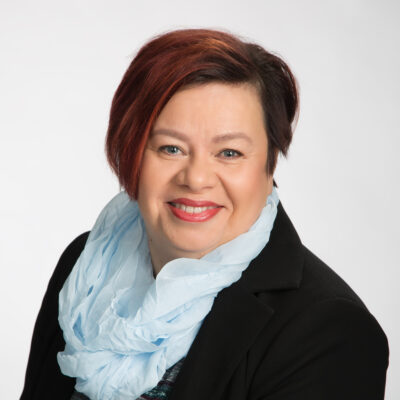 Over a decade ago, Nordea was among the first to sign up to support JA Finland's Yrityskylä concept. Money accompanies each of us throughout life. We are committed to supporting programmes that allow each age group to learn equally and in an age-appropriate way about daily finances. Over the years, we have increased our support of JA Finland in order to promote financial and entrepreneurship education and future-facing working life skills among children and young people.
Pirjo Kuusela, Corporate Social Responsibility Manager, Nordea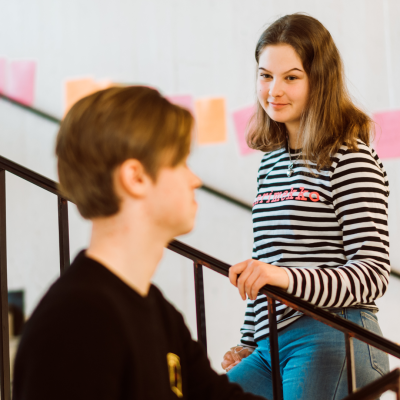 I learned how many different investment and savings opportunities there are. I also learned about housing-related money matters and responsibilities. It's important to learn about those kinds of things at this point, when I'm still young and learning to be independent.
Upper secondary school student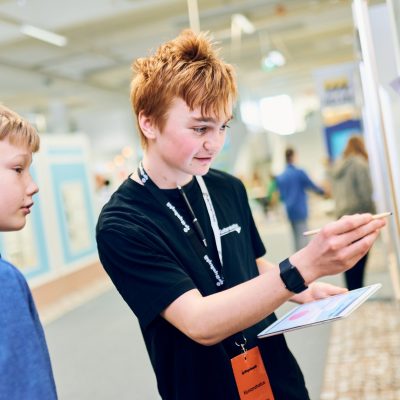 It was fun to be a bank manager. I gained a new perspective on work. Maybe one day I'll actually work in a bank! I had nice coworkers!"
A sixth-grade student who worked at Yrityskylä's Nordea bank for the day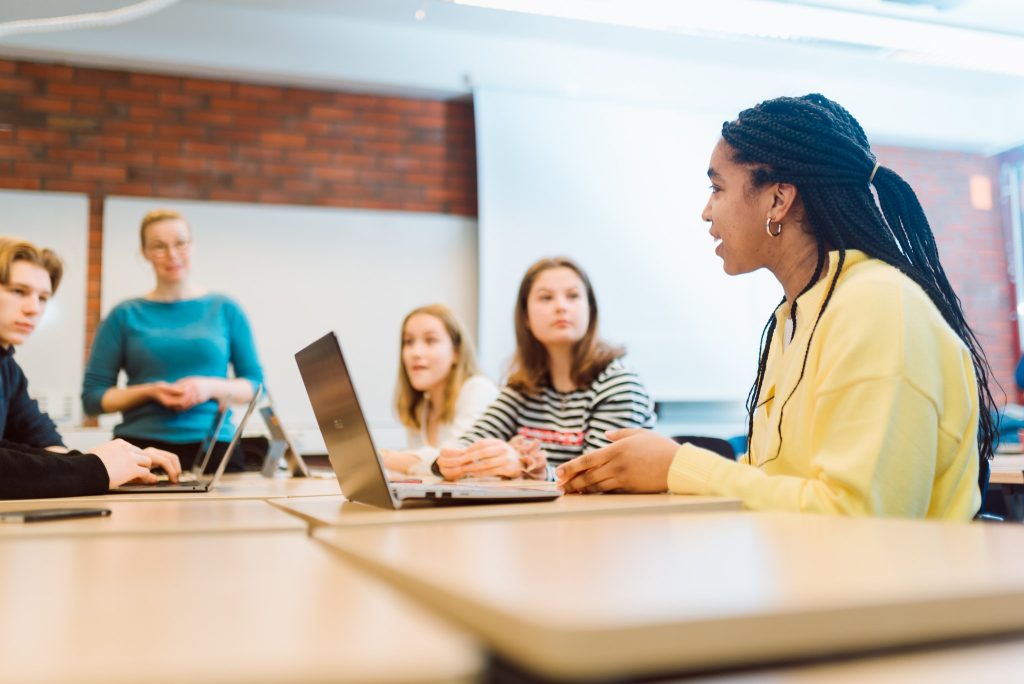 Positive work experiences and tools for the future with LähiTapiola
Children run LähiTapiola companies in a total of six different Yrityskylä miniature societies. Sixth graders learn about sales and customer service, sell insurance policies, process the Yrityskylä residents' claim notifications and look after the well-being of their employees.
In secondary school. ninth graders solve insurance-related challenges as part of the inspiring Yrityskylä game
In upper secondary school, the students acquire skills related to independent living, responsible entrepreneurship and working life.
In addition to this, LähiTapiola was involved in the 2023 JA Finland Tulevaisuusraportti survey, which investigates young people's attitudes and expectations towards working life.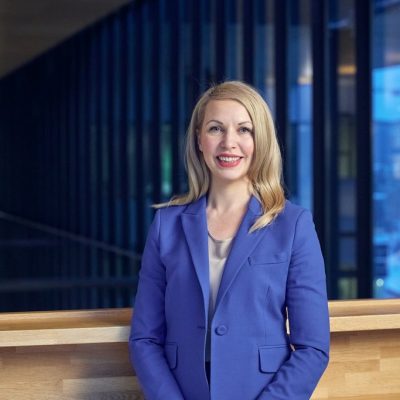 Being able to contribute to children and young people's sense of autonomy and control over their futures is important to LähiTapiola. Improving children and young people's financial and working life skills through our partnership with JA Finland is a significant part of our responsibility efforts. JA Finland has high levels of pedagogical expertise, and their services reach and influence entire age classes.
Eeva Salmenpohja, SVP, Sustainability and Communications, LähiTapiola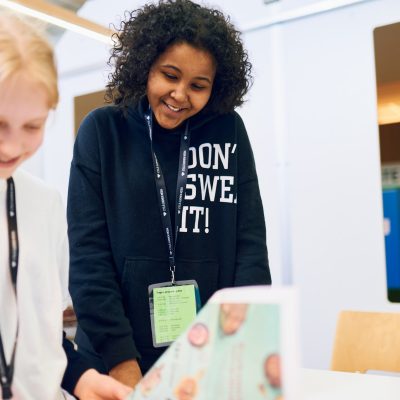 It was fun to work at LähiTapiola. It was kind of like working in real life!
A sixth-grade student who worked at Yrityskylä's LähiTapiola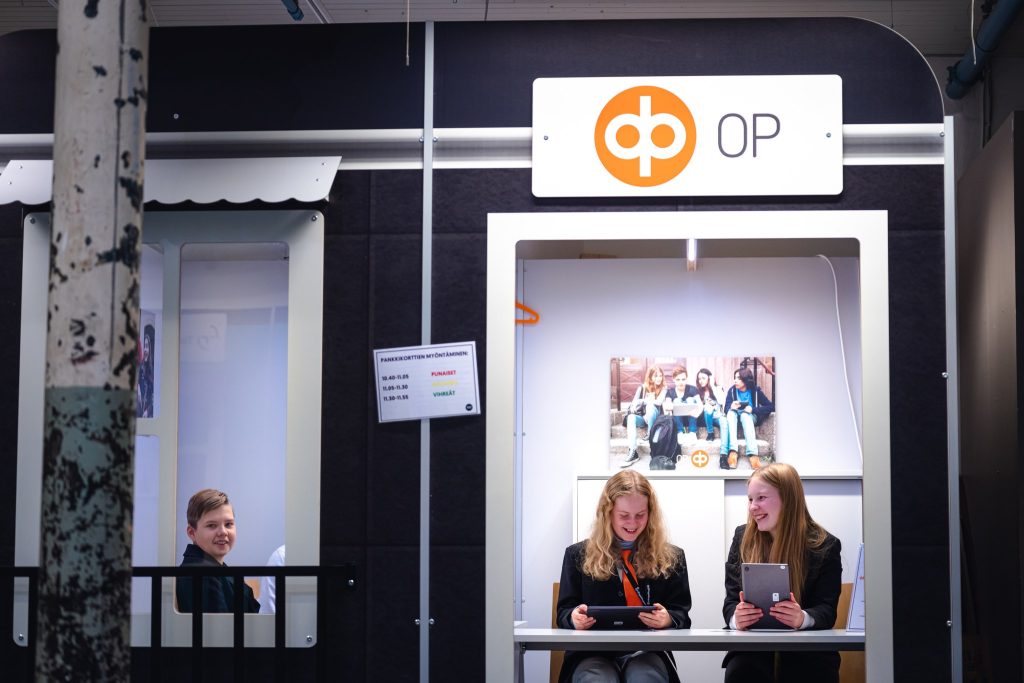 Financial skills for students of all ages with OP Financial Group
OP Financial Group supports children and young people in acquiring financial skills through JA Finland's primary school, secondary school and upper secondary school services.
OP also educates upper secondary school students about responsible investing through the Sijoittajakoulu investment course and offers teachers training about financial matters. The personal finances course Oman talouden hallinta features insurance-related tasks developed in cooperation with OP.
Furthermore, sixth and ninth graders play the roles of customers and employees in regional Osuuspankki miniature banks located in seven Yrityskylä learning environments across the country.
OP also promotes young people's entrepreneurship through JA Finland's entrepreneurship programmes, including the Uskalla Yrittää event.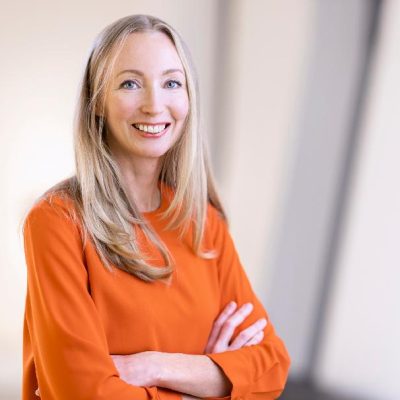 Personal financial skills are a crucial civic skill, and it is essential that everyone in our society has equal opportunities to manage their personal finances. OP Financial Group has collaborated consistently with JA Finland to improve children and young people's financial, working life and entrepreneurship skills nationwide. In addition to this, many regional OP banks have partnered with Yrityskylä learning environments all over the country. JA Finland's services and projects are practical and inspiring, and they have an important positive impact on the lives of children and young people in our society.
Päivi Svens, Chief Brand Officer, OP Ryhmä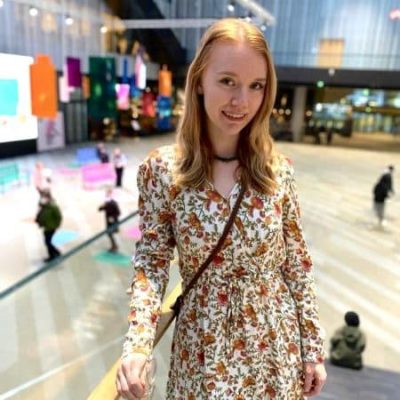 I found a direction for my life in the JA Company Programme. I was convinced that I am a good performer, someone who can help others and a future designer. I learned sales skills, how to receive feedback and networking skills.
Christa Pyykkönen, JA Finland alumni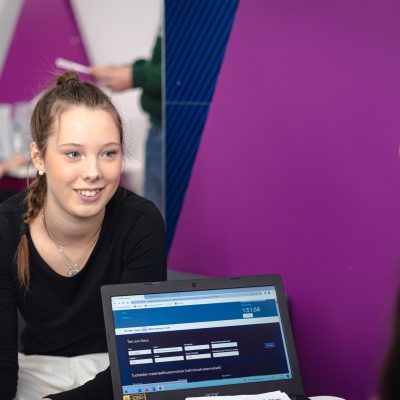 I had an unforgettable work experience. Working at OP was wonderful and my tasks were not too difficult.
A sixth-grade student after the Yrityskylä day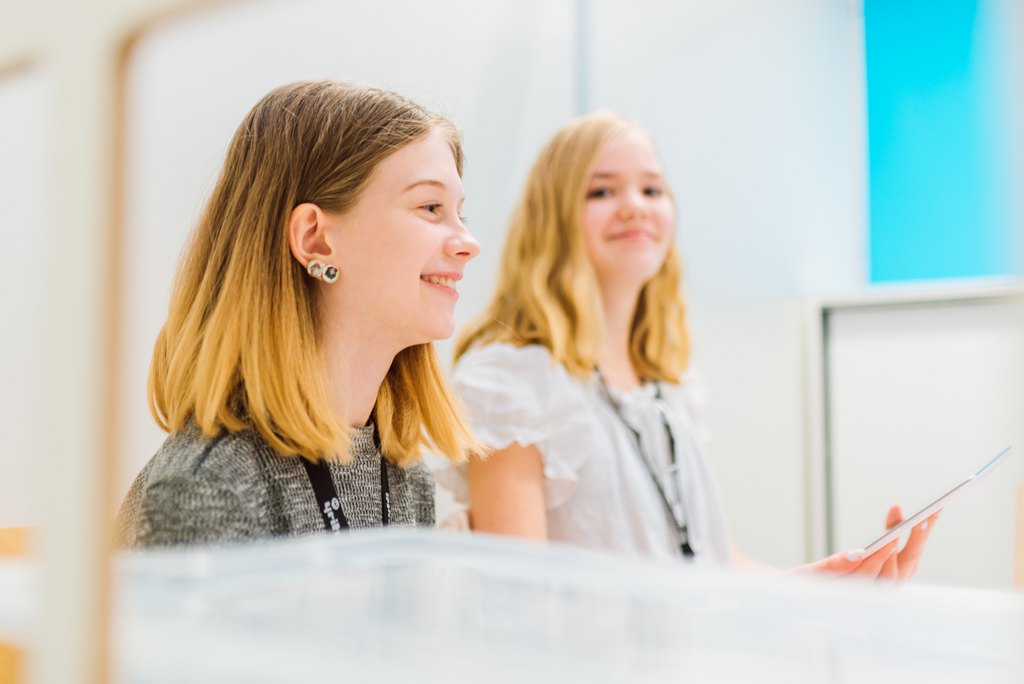 "It was a joy and an honour to be involved in such a meaningful project, and to not only help young people learn about working life but also to introduce locals to the chemical industry and particularly the Kraton factory in Oulu.
We've only had good experiences with this partnership! Many summer job applicants remember Kraton from their sixth-grade Yrityskylä day. We feel that this improves our visibility locally.
Johanna Niskala, HR Business Partner, Kraton Chemicals 

"We are involved in Yrityskylä because we want children to learn about the importance of the healthcare and social services sector and about using entrepreneurship to make the world a better place. Together with the Association for Finnish Work, we represent social entrepreneurship in Yrityskylä. Our partnership has been rewarding, and it has been good to hear children's thoughts about working life."
Laura Niemi, Communication and Sustainability Director, Deaconess Foundation

"The skills practised in Yrityskylä Secondary School, such as proactivity, being active and being business-oriented, are crucial for both future entrepreneurs and in working life in general.
The feedback we receive confirms that the day improves young people's understanding of business and their view of entrepreneurship."
Harri Broman, Chair of the Board, Broman Group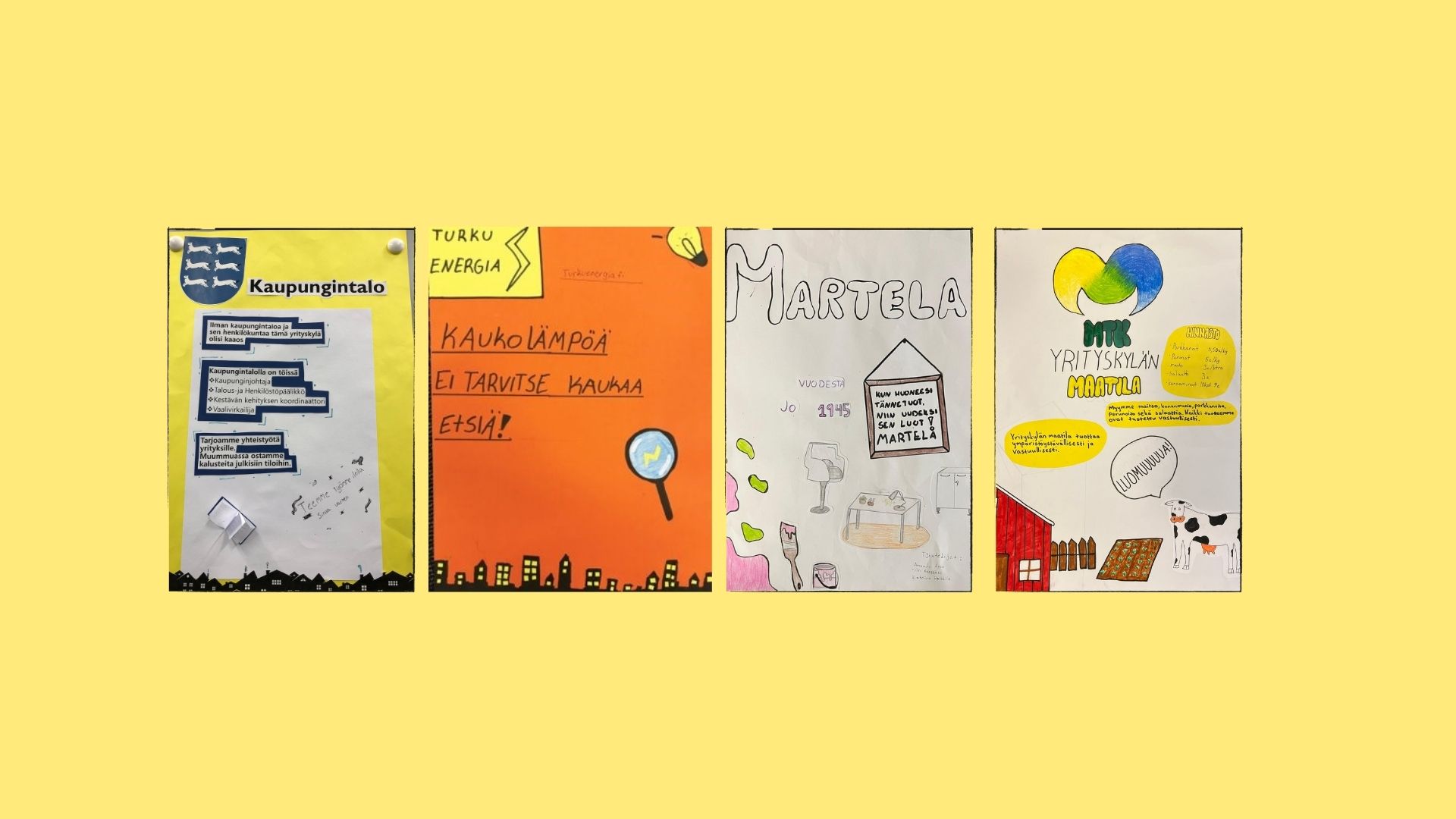 Sixth graders learn also about marketing during the Yrityskylä lessons.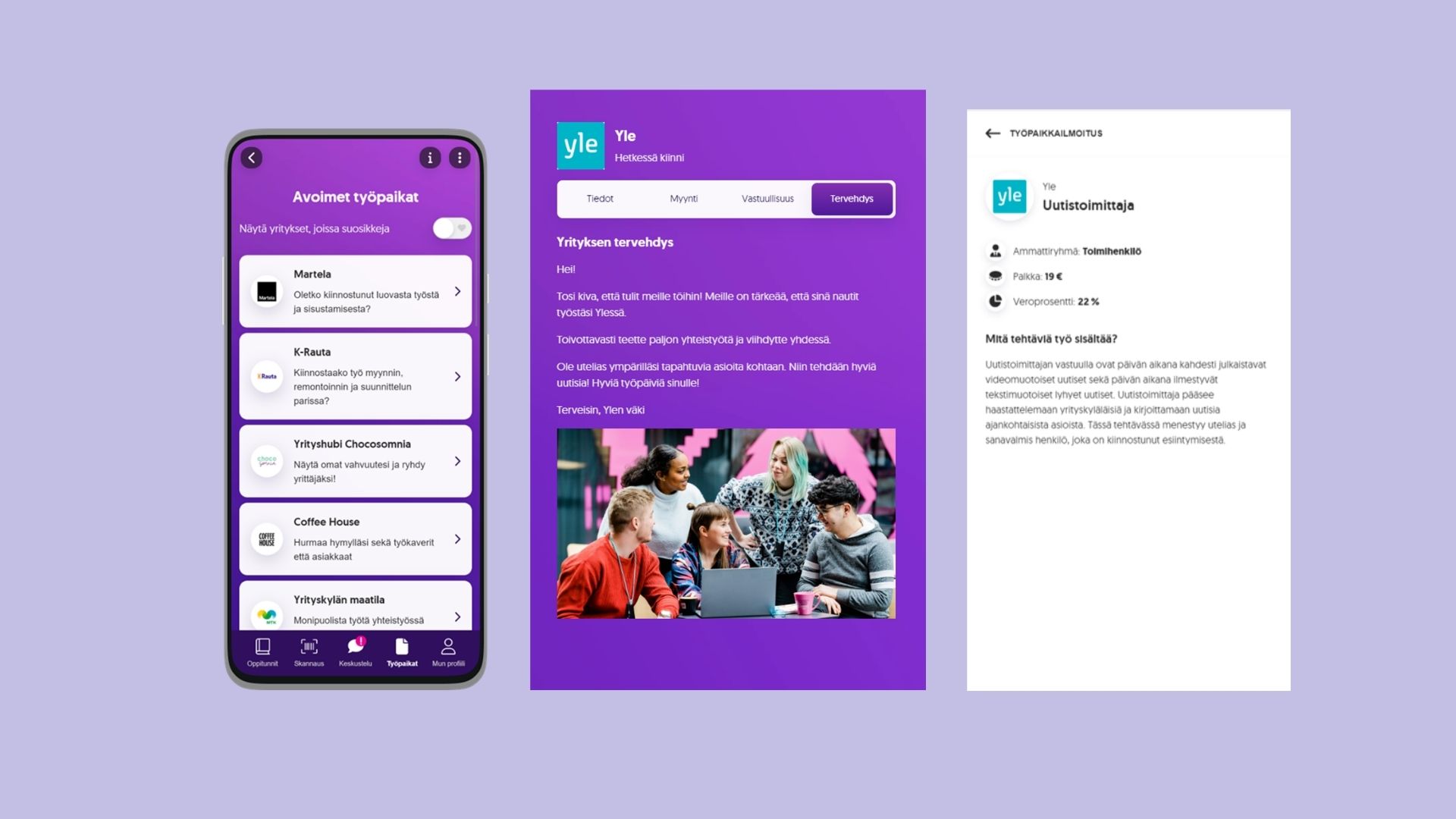 The Yrityskylä application allows the students to learn about job advertisements and the operations of different companies.
Let's get in touch!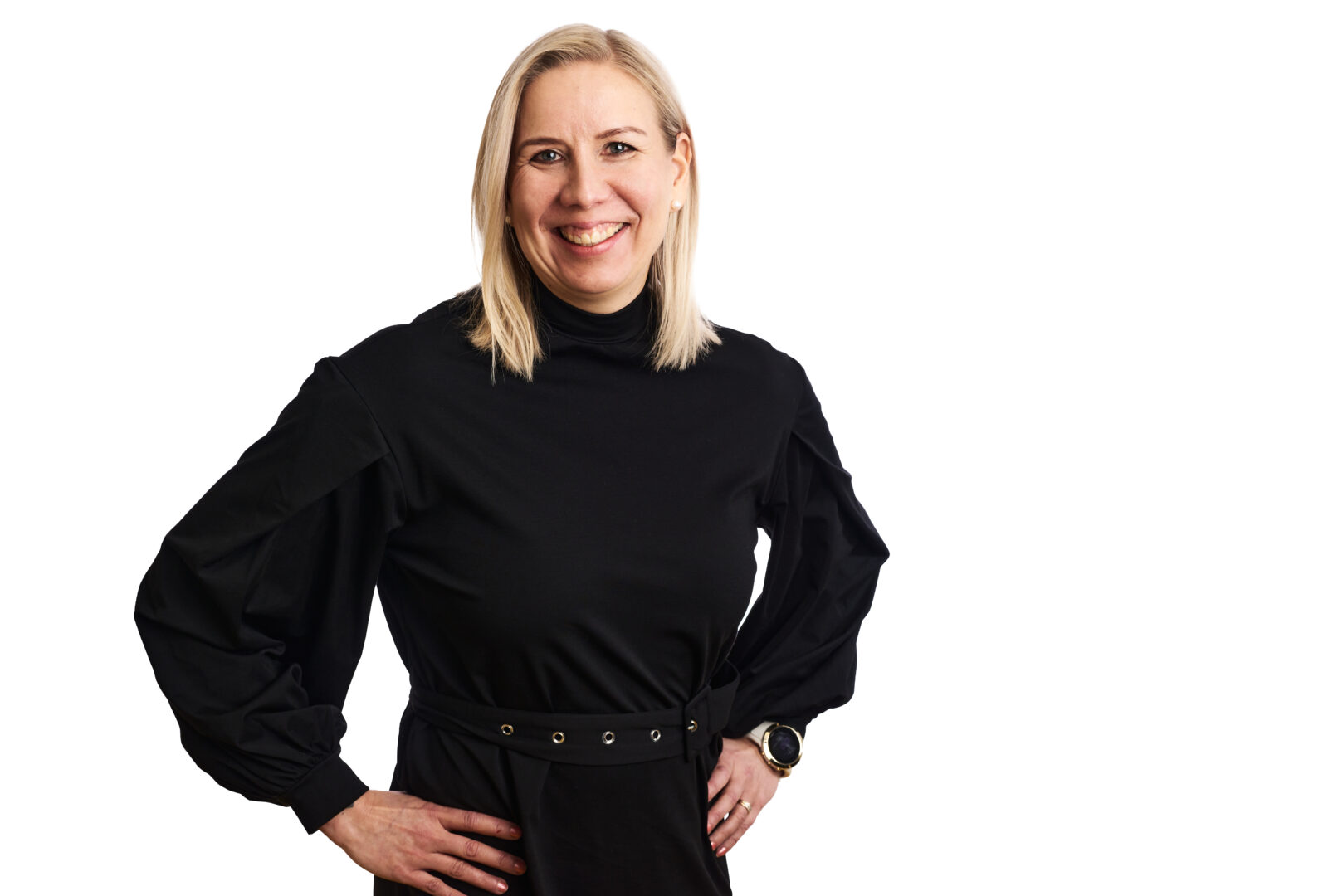 Tiina Solas
Chief of fundraising