FOR YOUNG PEOPLE
Find your strengths and encourage a friend!
We do our job so that you can succeed
Junior Achievement (JA) Finland offers services supporting the learning of working life, financial skills and entrepreneurship to levels ranging from pre-primary education to higher education. Our services have been built in accordance with the objectives of the curriculums. The JA Company Program for secondary school and higher education is available also in English.

We provide activities that will result in you learning to trust your future!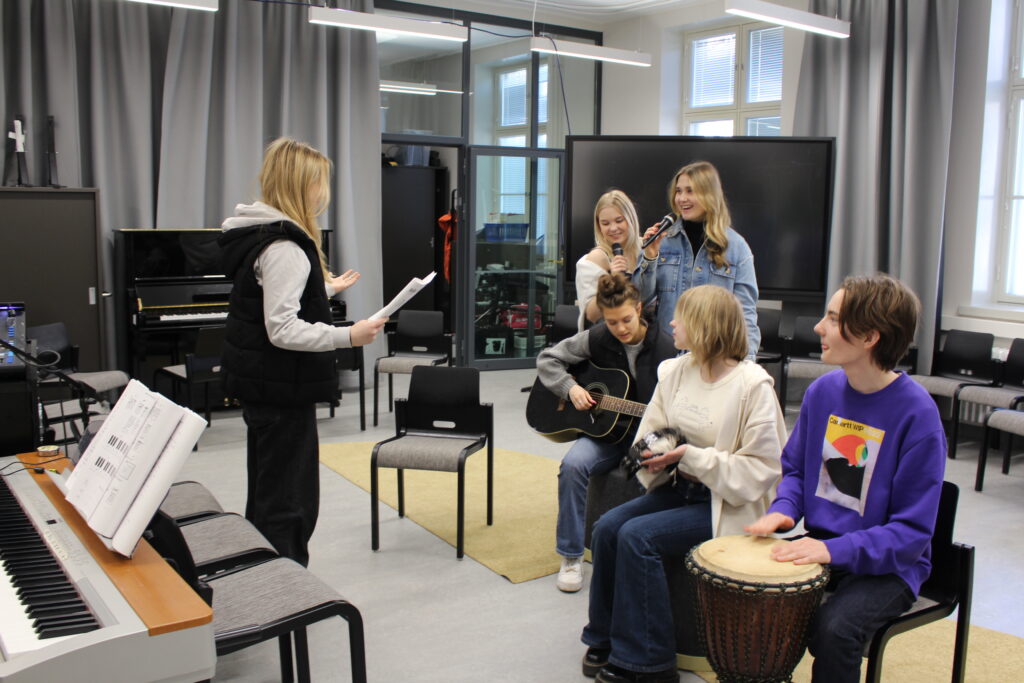 JA Company Program
Exploring entrepreneurship
The JA Company Program is a learning program that combines theory and practice. Its objectives are learning and developing entrepreneurial skills and an entrepreneurial attitude.
The program offers a turnkey solution for teachers to teach entrepreneurship. The program also provides an opportunity to participate in competitions and events that support learning and to access a teacher network.
For the student, the program is a fun and practical tool for learning entrepreneurship and workplace skills. During the program, students will, individually or in a group, establish a JA company using real money, in accordance with their own interests and skills. If they want, students can also participate in national competitions and events.
The JA Company Program is available for lower secondary schools, upper secondary educational institutions and higher education institutions.
JA Company Program – Lower Secondary School
JA Company Program – Upper Secondary School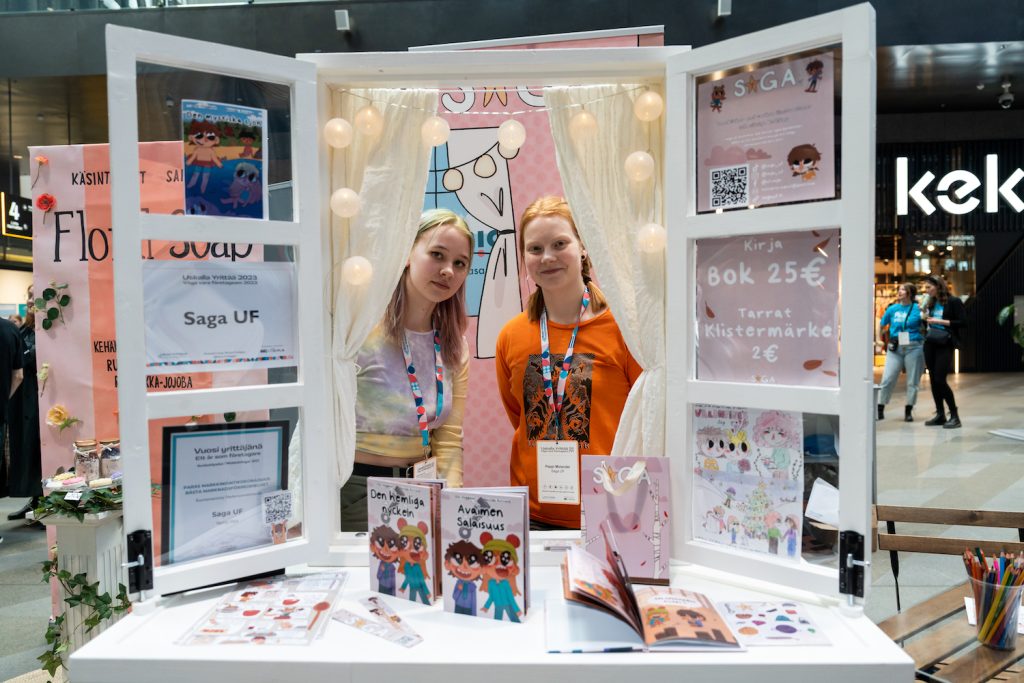 Uskalla Yrittää entrepreneurship event and competition
Uskalla Yrittää is the most notable entrepreneurship event and competition for young people in Finland. The event program has been designed for students participating in the JA Company Program.
The regional learning events and competitions will be held across Finland in February and March 2024. The Uskalla Yrittää competition will culminate in the final held in Helsinki April 2024.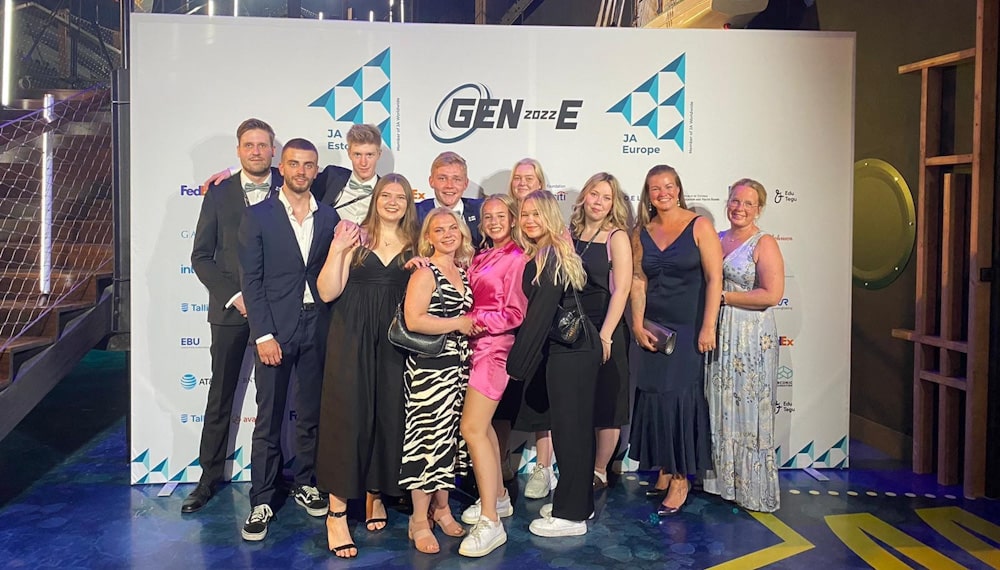 Gen-E
Best JA Companies to represent Finland in European Championships
Gen-E is Europe's largest entrepreneurship event for young people. Thousands of young entrepreneurs, 15 years old onwards, will showcase their cutting–edge business ideas and will be competing for the titles of best JA Company and best JA Start-Up of the year awards.
National winners of Uskalla Yrittää final in those categories will be representing Finland in Gen-E on July.
Gen-E Event is organised by JA Europe, continent's leader in entrepreneurship, work readiness and financial health programmes for youth.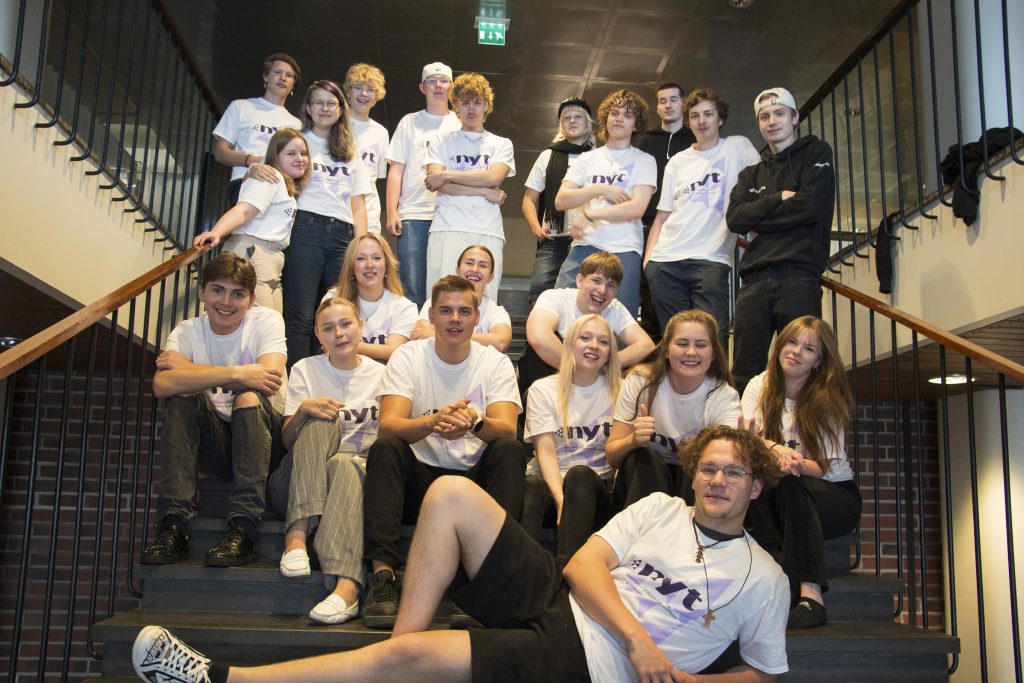 JA ambassadors inspire other young people with their own story
Have you already completed the JA company Program? You can apply to become a JA ambassador and inspire other young people with your own story.
Finding your own strengths is the key to a meaningful career – whether you want to become an entrepreneur or be employed. The JA ambassadors know this and inspire all young people to boldly pursue their dreams.
Our JA ambassadors get:
Opportunities to learn how to be a good performer
Fair financial compensation
Plenty of new friends and contacts
Memorable moments at inspiring events
Community support and training
Questions about ambassador work?
Contact: harri.paltila@nuortennyt.fi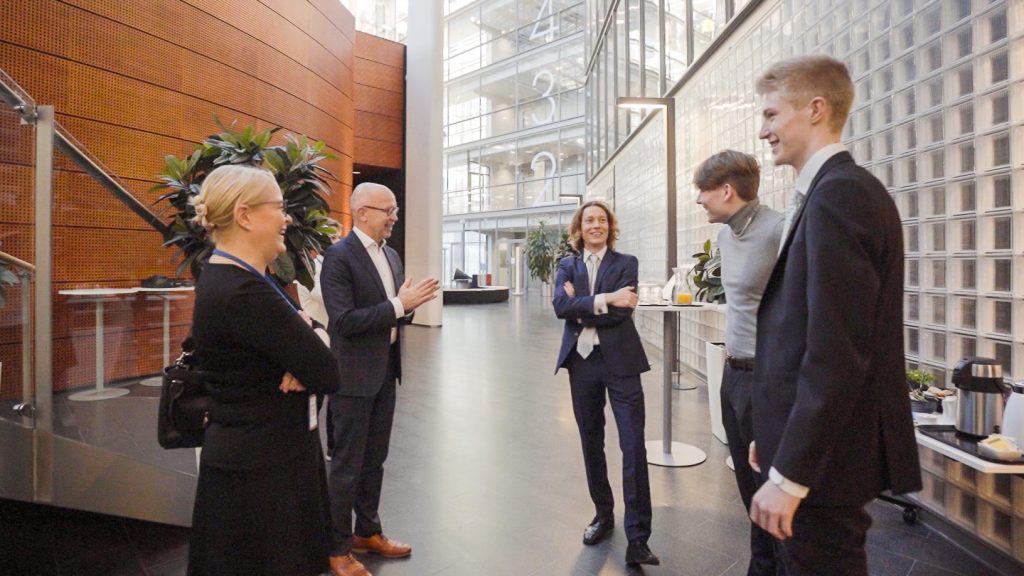 Job Shadow
Explore a leader's day
Job Shadow is an experience that you will remember for a long time. You can follow the day-to-day life of an experienced leader or influencer at close range for a day. Your joint working day includes taking part in managerial tasks and meetings, as well as networking with professionals from different industries.
Job Shadow is an alumnae event of the Junior Achievement (JA) association, which is aimed at young people who have attended the JA Company Program.
Job Shadow will be held again on 4 October 2023.
More information: nikita.gavrilenko@nuortennyt.fi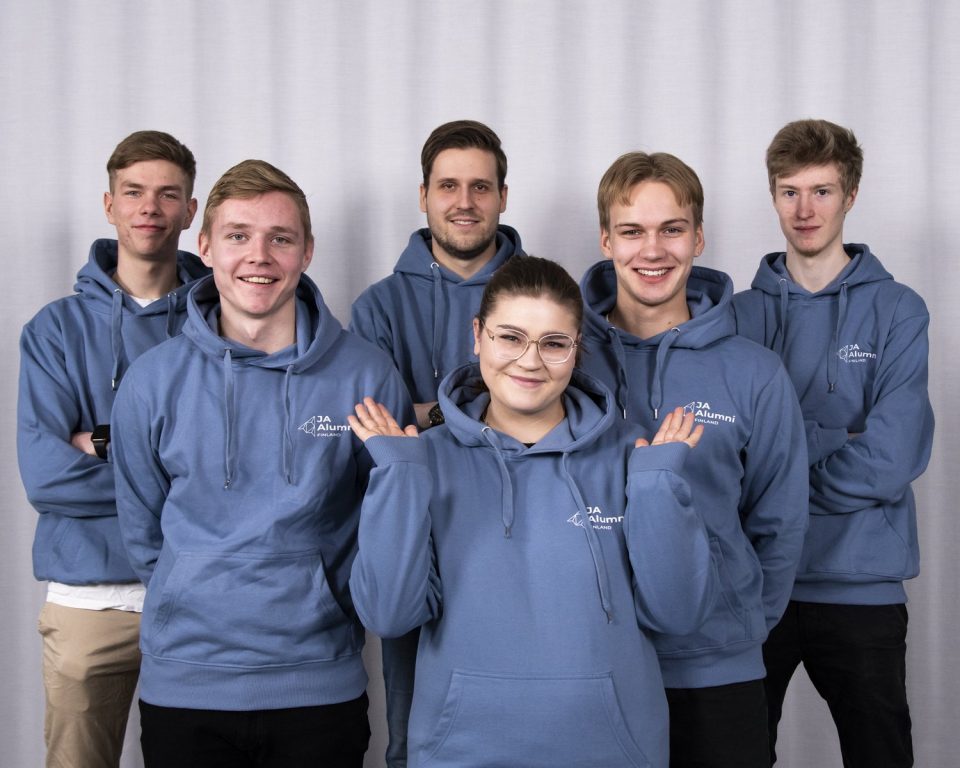 JA Alumnae Finland
Did you know that by participating in our entrepreneurship program, you are also part of a large international community – the alumni?
JA Worldwide, the umbrella organisation of the Junior Achievement association, has been spreading the gospel of entrepreneurial education around the world for over 100 years. In Europe alone, some 360 000 students from more than 40 countries participate in the Company programme every year. Wow!
Join alumni activities! JA alumnae are an alumnae association maintained by young people, which offers networks and activities both nationally and internationally.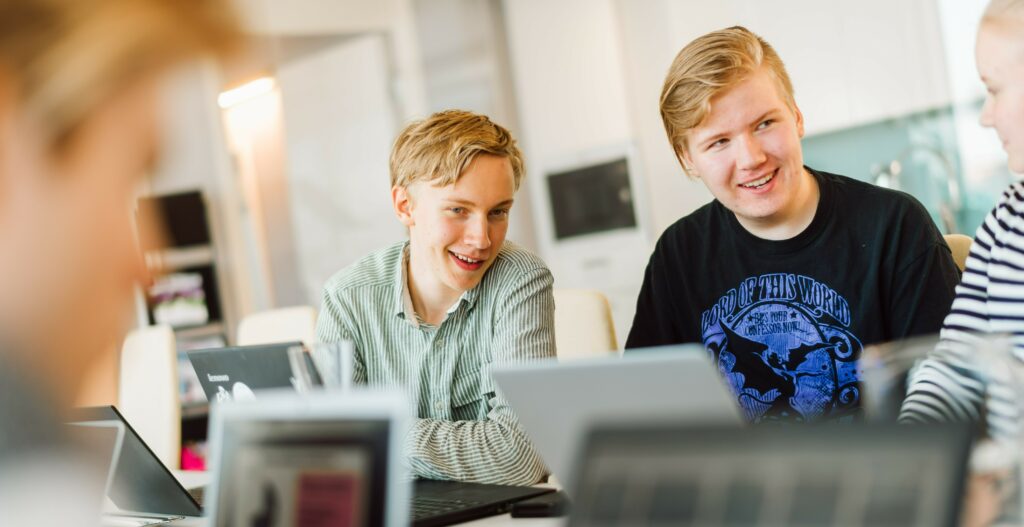 Career test
Job Explorer
What will you be when you grow up? Is it time for a new career? The career test helps you in finding a direction and recognising your strengths.
In JA Finland's Job Explorer, you will answer 20 different statements about your behaviour and opinions. The end result will show you, which professions are the most suited to and common to your personality. The test also gives some pointers on what kind of working environment you might best enjoy. Test which profession is the best fit for you. Job Explorer is a career test that helps you in finding the professions most suited to your personality.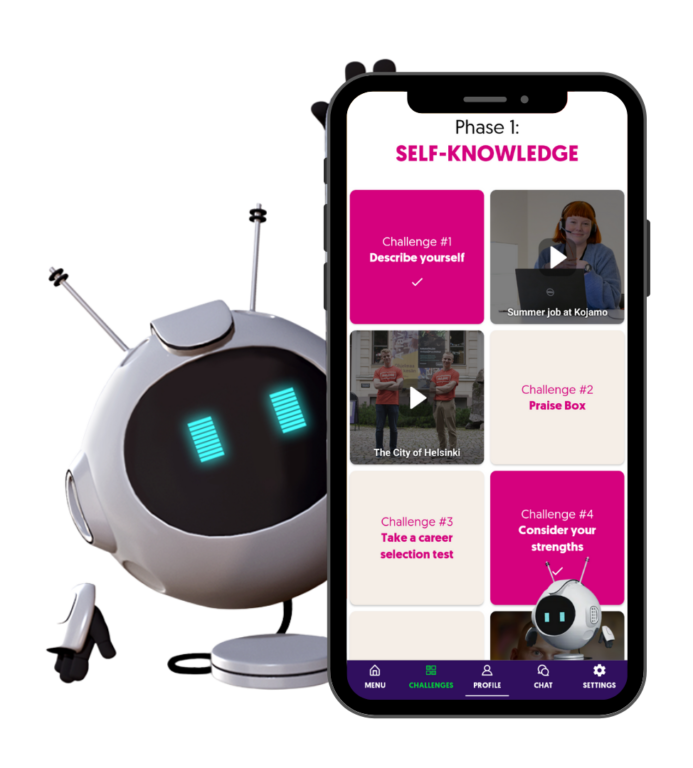 Job search
Duunikoutsi supports young people in their job search
Duunikoutsi is a free of charge mobile application aimed at young people aged 13 to 25. The content of the app is suited to young people applying for a TET period placement, summer job or an internship, or a job.
Duunikoutsi helps and gives guidance in:
Finding a TET period placement and first job opportunities
Accumulating working life skills
Writing a job application and preparing for a job interview
Self-knowledge and recognizing own strengths
Accessing up-to-date work life information
Career planning and finding your own path
The app is available in Finnish, English and Swedish. Additionally Duunikoutsi has versions combining Arabic, Russian and Somali with plain Finnish.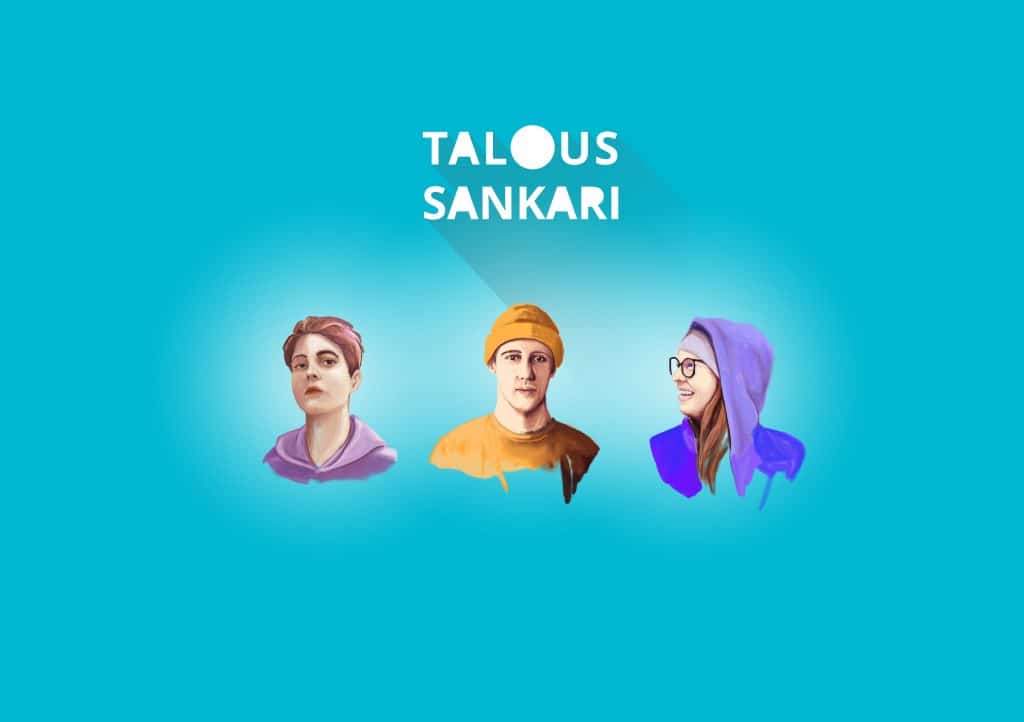 Moneymaster
Moneymaster teaches everyday financial skills
In the game, the player lives daily life as a young person and makes choices about their finances. The game will introduce you to making considered decisions, harmonising saving and spending, and trading securities. The most successful players will manage their overall finances well, and collect not only cash but also experiences.
The game is targeted at 13 to 17 year-olds, and is free for everyone to play. It will take about 45–60 minutes to play through the game.
Launched in 2018, Moneymaster has been designed and implemented by Junior Achievement (JA) Finland, Nordea and the Finnish Foundation for Share Promotion. The game studio 10Monkeys has been in charge of technical implementation.