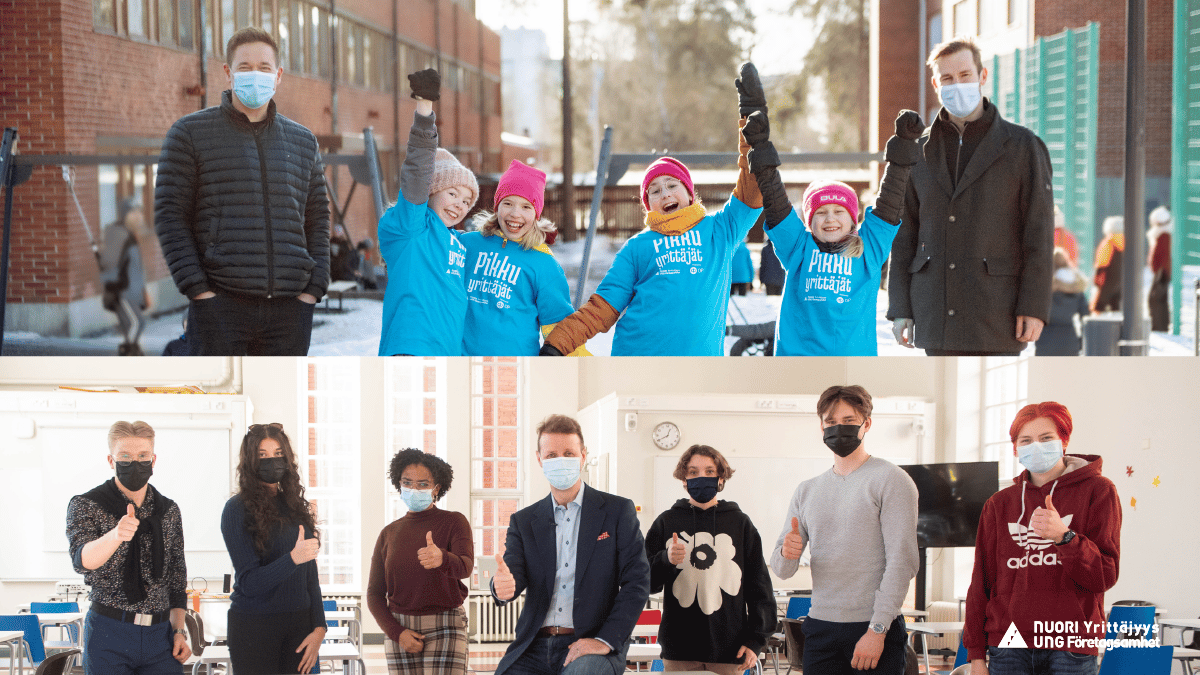 A group of well-known entrepreneurs, including Ilkka Paananen, Mikko Kodisoja, and Risto Siilasmaa, have agreed to support the activities of the non-profit organization Junior Achievement Finland (JA) for the next five years as private individuals. The Louise and Göran Ehrnrooth Foundation has also decided to lend its support for the activities. The donated amount is 1.25 million euros per year over the next five schoolyears, amounting in total to 6.25 million euros. Having a solid grasp of entrepreneurial, working life, and financial skills is becoming increasingly significant in the rapidly changing working life. Children and youths are provided an opportunity to practice these skills within the long-term Junior Achievement programs that are organized as part of the teaching provided by schools.  
"We share JA's dream of allowing each Finnish child and youth the opportunity to try entrepreneurship at school. The skills learned during entrepreneurship education are important even for those who do not end up becoming entrepreneurs – the most important lesson of the program is learning to work with others toward a common goal. At the same time, the children can make new friends and engage in meaningful activities", says Ilkka Paananen. "When I was in secondary school, I didn't even know what an entrepreneur was. It would have been great if such activities had been organized at the time. In Finland we have the best comprehensive school education in the world, but we are somewhat running behind other Nordic countries in terms of investment in entrepreneurship education. We should be able to offer free entrepreneurship education to all children and youths from day-cares to universities and take Finland to the top in this category as well." 
The mutual goal of Junior Achievement Finland and the sponsors is to reach all Finnish schools and educational institutions in order to offer each child and youth the opportunity to learn entrepreneurship, working life, and financial skills as part of their education, in an equitable manner regardless of their background or the geographic location of their school. For 18 years, JA Finland has offered schools and educational institutions Junior Achievement programs that support the objectives of the curricula and transversal learning. In the past two schoolyears, approximately 38 percent of Finnish schools and educational institutions have utilized Finnish or Swedish language JA programs that are offered to them free of charge.  
"We know that youths are interested in these programs, but the fact still remains that a small number of enthusiastic teachers assumes the responsibility for the realization of the programs based on practical activities", says Virpi Utriainen, the CEO of JA Finland. We want to support the teachers in their important work, and with the donation from the entrepreneurs and the foundation we can significantly increase our cooperation with schools. We aim to ensure that teachers are able to utilize existing models and companies can spar and network with youths, finding new employees and even successors. Our objective is to increase the utilization rate of the JA programs at schools to 80 percent within the next five years. This is an ambitious goal on the global level as well. For years, our work has been supported by amazing partners from businesses, foundations, and the public sector, and we welcome all new partners to join us in facilitating the future."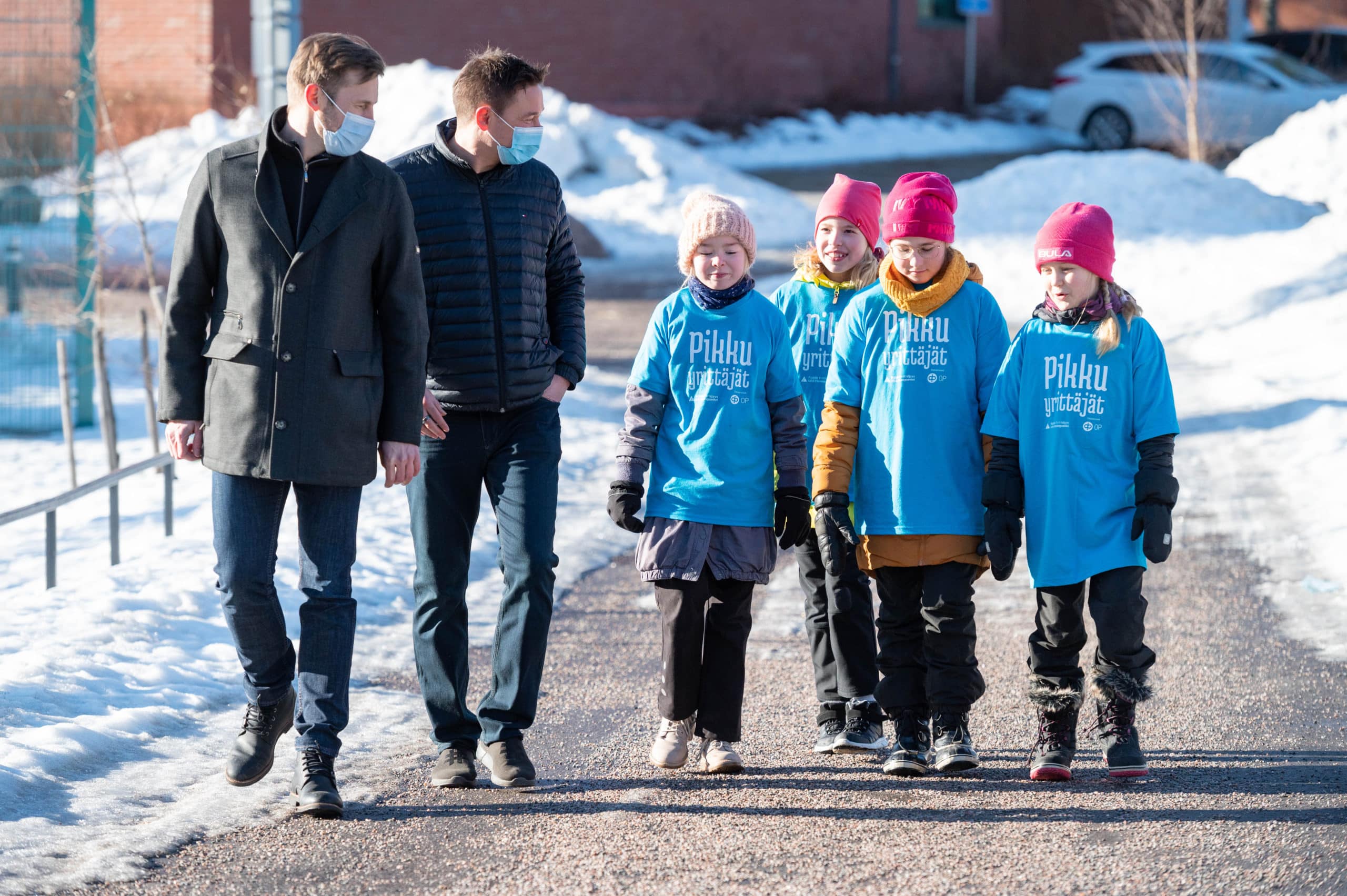 Interest in entrepreneurship is growing, but only a minority is provided 

a 

sufficient introduction to entrepreneurship during their studies
The interest toward entrepreneurship among youths aged 15–19 has continued to grow since 2013. According to Youth Barometer 2020, 58 percent of youths who had not yet engaged in entrepreneurship were at least somewhat interested in trying out entrepreneurship at some point of their careers. 62 percent of youths believe that entrepreneurship skills should be taught to everyone starting in comprehensive school. However, more than 50 percent of the youths say that their studies do not offer a solid introduction to entrepreneurship. Only 14 percent of students in higher education institutions feel that their studies have provided them sufficient capacities for entrepreneurship. 
According to game and entertainment industry entrepreneur Mikko Kodisoja, by practicing entrepreneurial skills children and youths can learn self-confidence, self-direction, and working life skills, which are useful even for those who do not decide to become entrepreneurs: "The larger the group we can introduce entrepreneurship and entrepreneurial attitudes to, the more likely major success stories originating from our small but feisty country become." 
E

xceptional 

circumstances 

ha

ve

 emphasized the importance of investing in the future of Finnish youths
It is hard to imagine a better way to maintain regional vitality and the competitive ability of a country than investment in youths. Still, the exceptional circumstances that have continued for a year have reduced the future prospects of youths and their overall life satisfaction even further. There are more than 40,000 unemployed youths under 25 years of age, which is almost 10,000 more than there were one year ago.   
Junior Achievement Finland wants to improve these prospects.  
"The feedback we have received from teachers around the country has been consistently clear: ideation as part of a team, presentation skills, the courage to speak to unfamiliar people, societal thinking, financial skills, and an entrepreneurial attitude are among the most important lessons reinforced by the program within the daily activities of the school", Virpi Utriainen says. "By providing the children and youths more experiences of success, improving their self-efficacy, and expanding their understanding we can engage them actively in building the best country in the world. I am truly delighted to be able to share good news about Finland at a time such as this."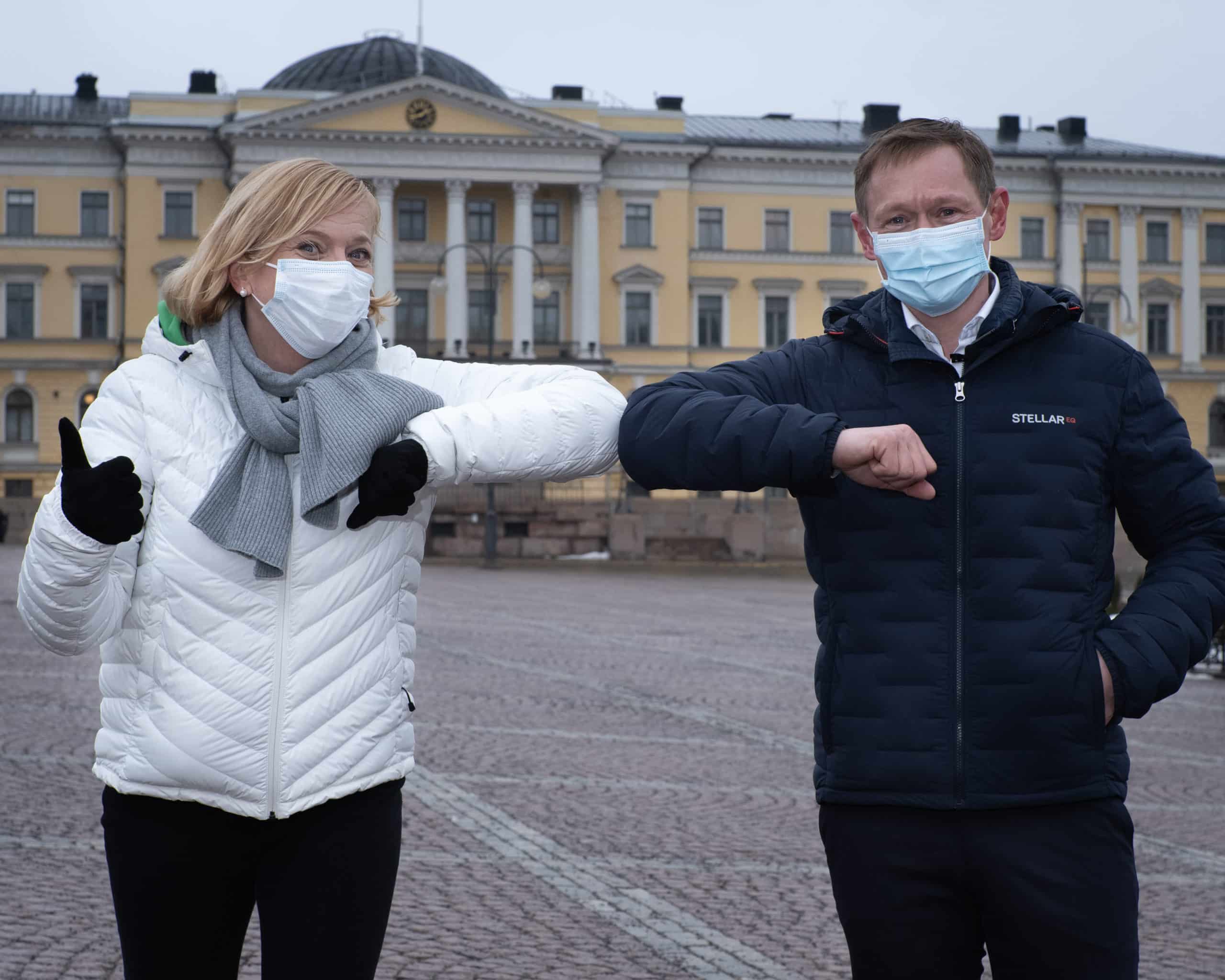 Siilasmaa: "Decision-makers should support entrepreneurship education"
According to Risto Siilasmaa, entrepreneurship largely consists of problem-solving that requires courage and the ability to take risks. "Entrepreneurship is one of the key factors in which we can invest in order to contribute to resolving the challenges that threaten humankind. In Finland, the central challenge is ensuring the stability of the welfare state. Through entrepreneurship, we can generate massive amounts of added value that can be used to finance the things we consider important", Siilasmaa says. "Luckily, the appreciation of entrepreneurship is on the rise. We have a growing number of excellent entrepreneurial role models and I believe that decision-makers are also starting to recognize the power of entrepreneurship. The Junior Achievement activities offer excellent tools for decision-makers to take initiative and further the success of entrepreneurship in Finland." 
"We believe that entrepreneurship, in any form whether as an individual entrepreneur, as part of a team or a large company, or even through a non-profit charitable cause, is the foundation of growth and welfare. Without new thinking, risk-taking, learning, and failures Finland or the world cannot develop further today, let alone for tomorrow", says Alexander Ehrnrooth, a member of the Board of the Louise and Göran Ehrnrooth Foundation. "Today is a better time than ever to be an entrepreneur. A basic understanding of financial skills, which is promoted by the Junior Achievement programs, provides a framework for entrepreneurship throughout the country. We are grateful to be able to support these activities and in particular the young entrepreneurs."